1,000+ Tintin Covers: Actual Book, Pastiche, Parody,
Imitation, Farce, Staire, Fake, Mockery, Pirate,
Mimic, Scoff, Joke, Spoof, Fantasy ~ Page 1

by Dave Ahl (aka SwapMeetDave)


More than 1,000 Tintin real, pastiche, imitation and parody covers are on these pages. A pastiche is a work that closely imitates the work of a previous artist, usually distinguished from a parody in the sense that it celebrates rather than mocks the work it imitates. You will find works on these pages that have been described by many names: parody, farce, staire, pirate, fantasy, spoof, fake, lampoon, funny, travesty, mockery, mimic, counterfeit, forgery, false, ridicule, scoff, joke, humor, foolish, silly, or imitation.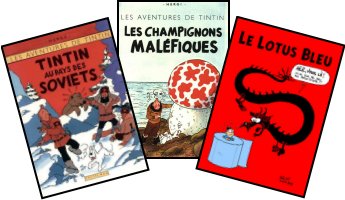 How many of these illustrations have been produced? One blog estimates more than 2,000, which seems reasonable considering that the 1,000+ works on this web site were all posted on the Internet in the past 10 or 15 years and don't include most of the ones produced from 1960 to 2000. As far as I know, more pastiches and parodies have been produced for Tintin than for any other real person or fictional character.
These illustrations are totally unauthorized and frowned upon by Moulinsart (holder of the Tintin copyrights), Studios Hergé, and the book publishers such as Casterman, Mammoth, Egmont, Methuen, Magnet, Little-Brown, Last Gasp, EuroBooks, etc. Moulinsart has taken legal action against some of the artists with mixed but generally unpleasant results. Personally, I see most of these works as hommages or tributes to Hergé where another artist shows respect for Hergé's work, so I'm not sure that Moulinsart should come down so heavily on the creators of them. Yes, there are certainly those that show Tintin in a disparaging or undignified way and of course there are X-rated illustrations (which are not included here), but most tend to be humorous or farciful. Bizzarely, Moulinsart doesn't even want unaltered images of Tintin books on the Internet.
Most of these works were designed as either a book cover for an actual book or just a cover illustration. These tend to have the "correct" proportions (3 x 4 corresponding to a 9" x 12" book) but those designed as posters, postcards, or for a small-format book are often quite different. I took some artistic license with a few of the works, mostly straightening lettering, slightly altering the size of lettering or illustrations to fit together better, adjusting faded or bad colors, filling in tears and creases, and removing stains and stickers. If you have a better scan than I do, I would welcome it.
This is not a blog. My experience is that blogs get cluttered with a lot of irrelevant comments and it gets harder over time to find the "meat" of the site. I welcome comments and submissions via e-mail (use the "Send Mail" button), and I will post appropriate ones on these pages. My web site (SwapMeetDave.com) gets about 7,000 visitors every day, which leads to a lot of e-mail. I read it all and try to answer as much as I can, but I'm just one retired guy with a lot of other stuff on my plate as well as this web site. So be patient with me. Thanks!

---
---
The illustrations. If you click on any thumbnail image on this page, you'll get to see the biggest one I have in a separate window. Where I had gigantic images, I reduced the height to a maximum of 800 pixels. In some cases, all I have is a tiny image; sorry about that. There are a huge diversity of images, and one could classify them into 7 or 8 separate categories, but I've divided them into just three:
1) Imitations of Tintin covers in which the title or general design, loosely interpreted, correspond to one of the 24 Tintin books or 3 films. These are reproduced along with the original book covers on these first pages. There are many covers that are an exact copy of the original cover with a different title or background color; these are not included here. This page covers the first ten books; the rest are covered on Page 2 ~ Tintin books 11 to 24.
2) Imitations in which the design, type, and layout is generally similar to a genuine Tintin cover. This category includes covers for other characters and people (the Duponds, Flinflins, Zinzin, Clinton, etc.). Click here for Page 3 ~ similar Tintin parody covers.
3) Covers inspired by Tintin books but with a different style or design. Lots of weird stuff in this group. There are also many real books and videos about Hergé and Tintin, which I did not intend to include, but some may have inadvertently slipped in. There are also many other magazines with covers inspired by Hergé; again, some may have slipped in. Also, Tintin magazine was published from 1946 to 1993; I don't think any issues slipped in, but they may have. No advertisements, like for the Citreon 2CV, either. Click here for Page 4 ~ inspired by Tintin fake covers.
Many of the titles of these works are derivations of an actual Tintin book, some are puns, some are homonyms, and many are completely new. In some cases, different artists have come up with the same name for a quite different book. As might be expected, there are more illustrations (39 and counting) for Hergé's last and unfinished book, Tintin and Alph-Art. Yves Rodier actually submitted his illustrations to Moulinsart for the actual book, but they were turned down in favor of a rather lame illustration apparently produced by an in-house designer.
Page 5 is a CONTEST which challenges YOU to design a Tintin imitation, parody, or fake cover. It has the rules of the contest, downloadable Tintin type font, and images of some other characters to get you started. Budding artists, don't miss this page!

The Artists. Some artists are prolific creators of Tintin covers—ones like Yves Rodier, Jason Morrow, Harry Elwood, Stephane Beaumort ("bispro"), Gordon Zola, Exem, Bruno Marchand, and Joost Veerkamp. But most created just one or two images and that was it. I don't have many photos of these artists, but the few I have are here. They are a diverse bunch and deserve a big round of applause for their creative energies.
I've corresponded with several of the artists and they live all over the world: USA, Canada, Russia, Australia, India, China, and, of course, Europe. I haven't found any in Central or South America or Africa. The biggest cluster is, as one might expect, in Belgium, France, the Netherlands, and the UK. I've put the artist's name on each illustration when I know it, but in most cases, I don't. If you know who any of the missing artists are, please e-mail me. Also, if you are one of the artists and would like your mug on this site, e-mail it to me.

| | | | | | |
| --- | --- | --- | --- | --- | --- |
| Stephane Beaumort | Yves Rodier | Harry Edwood | Bob Garcia | Leena Kill | Charles Burns |
| | | | | | |
| --- | --- | --- | --- | --- | --- |
| Jason Morrow | Joost Veerkamp | Gordon Zola | Luke Kage | Roger Brunel | Les McClaine |
---
Tintin in the Land of the Soviets 1930 ~ English Translation 1989
Hergé's first book, Tintin in the Land of the Soviets, published in black and white in 1930 and never in color, inspired very few imitations or parodies. Shown here are the first Casterman covers (French and English), two post-war covers, an illegal imitation and some spoofs.

Casterman, 1930

Casterman, pre-war

Casterman, post-war

Casterman, post-war

"Approved" art rendering by Philippe Debongnie

Illegal French imitation

Spoof on "Big Gégé"
(Gérard Depardieu)

Dieudonné in the land of the wimps (Israel) by Liberman

In Moscow by Itomi Bhaa

By Harry Edwood

Yves Rodier (2 varieties)

By Arina P Sama

---

Tintin in the Congo 1931 ~ Color Edition 1946 ~ English Translation 1991
Hergé's second book, Tintin in the Congo, published in black and white in 1931 and in a standard 62-page color edition in 1946, inspired a great number of imitations, spoofs, and parodies. Shown here are the first Casterman covers and a wide assortment of fakes.

Casterman, 1931

Casterman/Egmont, 1946

In the Congo Naked

By Alexis Logie
By Charles Callico

By Gordon Zola
By Liberman

By Exem

By Sterin
By Chrib

By Alain, 2009
A Renault Kangoo, that is
The Paris-Dakar Rally

By Pahé
Protests illegal immigrants

By Mabi

By Arina P Sama

By Monsieur Steel

Left:
By Bado (After Belgian Appeals Court ruled that Tintin in the Congo is not racist but is "full of gentle and candid humor." In the US and UK, the book is sealed with a wide red band that says, "Collector's Edition" and warns that readers may find the content offensive.)


By Marissa Greenfield

By Marlin Singer

---

Tintin in America 1932 ~ Color Edition 1945 ~ English Translation 1973
Hergé's third book, Tintin in America, published in black and white in 1932 and in a color edition in 1945, had many "official" covers. This title inspired very few imitations and fakes. Shown here are ten "official" covers, eight spoofs, and one other.

Petit Vingtieme, 1932

Coeurs Vaillants, 1934

Casterman, 1934

Casterman, 1937

Casterman, 1962

Casterman, later

Egmont, 1978

Young readers edition

Grand-Duc Edition, 1972

Feature film in b&w

By Liberman

By Exem
By Pauline Bonnefoi

By Margerin

By Hiver

Left:
Jean-Loup de la Batelière wrote a book like this for most of the Tintin books. Each cover shows a room with artifacts, pictures, and posters from the subject of the book with Hergé sitting at the artist's drawing board.

---

Cigars of the Pharaoh 1934 ~ Color Edition 1955 ~ English Translation 1971
Hergé's fourth book, Cigars of the Pharaoh, published in black and white in 1934 but not in a color edition until 1955, had four "official" covers. It inspired a great number of imitations, pastiches, and parodies. Shown here are the first Casterman covers and a wide variety of fakes.

Casterman, 1934

Casterman, 1942

Casterman/Methuen, 1955

Young readers edition

By Gordon Zola


By Liberman

By Exem

By Joost Veerkamp

By Aditya Chakravarty

By Cristina Sampaio

By Cristina Sampaio

By Jason Morrow

Underwear ... by Alain

100 Panels ... by Sen

Jean-Marie Apostolides

By Pete Gamlen

By Florian Verdun

---

The Blue Lotus 1936 ~ Color Edition 1946 ~ English Translation 1983
Hergé's fifth book, The Blue Lotus, published in black and white in 1936 and in color in 1946, had three "official" covers. It inspired a fair number of pastiches, parodies, and spoofs. Here are the first Casterman covers and a nice group of fantasy covers.

Casterman, 1936

Casterman, 1946

Young readers edition

By Jourdan

By Alain D

By Harry Thompson?

By Joost Veerkamp?

By Richard Aeschlimann

"Approved" art rendering by Philippe Debongnie

By Snellby

By Chrib

By Erin Hunting

By Monsieur Steel

By Aditya Chakravarty

By Leighton Johns

By Gordon Zola

By "bispro"

Notebook

By Clytemnon or Nelson Noir?

Illustration by Hergé

---

The Broken Ear 1937 ~ Color Edition 1943 ~ English Translation 1975
Hergé's sixth book, The Broken Ear, was published in black and white in 1937 and in color in 1943. Between the story itself in the jungle and the play on words of the title, it inspired a goodly number of imitations, pastiches, and parodies. Here are the first five "official" covers and a large group of farciful covers.

Casterman, 1937

Casterman, 1942

Casterman, 1950

Egmont, 1954

Young readers edition

By Exem

By Dany

By Alain D

By Mestron (2 variations)

By "bispro"

By Y Chaland

By Exem

By Jason Morrow

Drawing by Zep

By Exem

---

The Black Island 1937 ~ Color Edition 1943 ~ Major Revision for English Edition 1966
Hergé's seventh book, The Black Island, was published in black and white in 1937 and in color in 1943. When The Black Island came to be published in English in 1966, Hergé's British publishers, Methuen, decided that the book did not portray Great Britain accurately enough, and Hergé was asked to rework it completely, updating it to the 1960s. The voilence was toned down as well. Much of this work was done by Bob de Moor and the resulting book is the version most commonly available today. It inspired a fair number of imitations, parodies, and fakes. Here are the first four "official" covers and a large group of fanciful covers. Several X-rated covers are not shown.

Casterman, 1937

Casterman, 1943

Egmont, 1966

Young readers edition

By Pauline Bonnefoi

By "bispro"

By Alain D

By Donosti

By Chrib

By Stewart McMillen

A Tintin spoof in title only. Drawing by Toth

---

King Ottokar's Sceptre 1939 ~ Color Edition 1947 ~ English Translation 1958
Hergé's eighth book, King Ottokar's Sceptre, was published in black and white in 1939 and in color in 1947. The first English edition was published in the UK in 1958. Here are four "official" covers just eight other covers inspired by this title. X-rated covers are not shown.

Casterman, 1939

Casterman, 1942

Egmont, 1958

Young readers edition

By "bispro"

By Joost Veerkamp

By Alain D

By Donosti

By Chrib

By Jason Morrow

---

The Crab With the Golden Claws 1941 ~ Color Edition 1943 ~ English Translation 1958
Hergé's ninth book, The Crab With the Golden Claws, was published in black and white in 1941 and in color in 1943. The book is notable for its introduction of main character Captain Haddock. In the 1960s, the book was published in America with a number of changes, mainly that black sailors were changed to Arabs and Haddock no longer drank directly from a bottle of whiskey. In an interview, Hergé sarcastically stated that these moves were "justified" because "everyone knows that Americans never drink whiskey(!)" and "that there are no blacks in America(!)". Below are five "official" covers and 19 parodies.

Casterman, 1941

Casterman, 1942

Golden Press, UK, 1959

American Edition, 1963

Young readers edition

By Exem

2 variations

By Monsieur Steel

By Alain D

By Jason Morrow

By Gordon Zola

By Joost Veerkamp

By Serge Clerc

By Jason Morrow

By Joost Veerkamp

By Clytemnon

---

The Shooting Star 1942 (French: The Mysterious Star) ~ English Translation 1961
Hergé's tenth book, The Shooting Star, was the first book published in color. When published in English in 1961, references to God were removed to avoid offending the church. Also, the antagonists, who were Americans, were changed to be from the fictitious country São Rico. The cover illustration, which looked like a mushroom, inspired a wide variety of spoofs. Below are two "official" covers and 39 fantasy images.

Casterman, 1942

Young readers edition

2 variations (click on image)

By Monsieur Steel

By Kai Schüttler

By Carla Rodrigues

By Sternic

By Joost Veerkamp

By Liberman

By Alain D

By Dave Bell

By Gordon Zola

Charles Burns (2 titles)

Back cover of X'ed Out

By Piooley

By Sergi Clerc

By Caza

By PeaceMakerGirl

By Charles Burns
---
---
© 2013. Web site design by Dave Ahl, e-mail swapmeetdave@aol.com