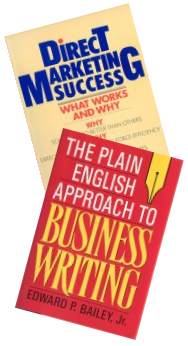 Management, Marketing, Writing, Desktop Publishing Books Cheap!


Books have been read just once (gently!) and are in like new condition. Packaging and postage via USPS Media Mail is a flat $2.00 for the first book and 50¢ for each additional book. I have only one of each title. To make sure you get what you want, please e-mail me at SwapMeetDave@aol.com and I'll set aside the books you want and ship them upon receipt of your check or money order. I also accept PayPal to SwapMeetDave@aol.com (add 3% + 35¢ for PayPal commission). Send mail orders with check or M.O. to David Ahl, 12 Indian Head Road, Morristown, NJ 07960. I list more books from time to time, so come back again. Thank you!



Click for books about: Management | Marketing | Business Writing | Desktop Publishing



---
Effective Management
The Visionary Leader by Wall, Solum, and Sobol. Hardcover, 237 pages. From mission statement to a thriving organization, here's your blueprint for building an inspired, cohesive, customer-oriented team. Absolutely fundamental and essential lessons in an engaging and readable book. SOLD
Total Customer Service: The Ultimate Weapon by Wm. Davidow and Bro Uttal. Hardcover, 227 pages. A 6-point plan for giving your business the competitive edge. The book provides a solid, specific, workable approach to attain superior service in your organization. Useful "to-do" lists at the end of every chapter. SOLD
Managerial Literacy by Gary Shaw and Jack Weber. Hardcover, 198 pages. "This book is a must read for executives who are serious about taking charge of their own professional development as well as enhancing learning and managerial effectiveness in their organizations. It is an important, lifelong reference book of words, concepts, and ideas." J.E. Cleghorn, CEO, Royal Bank of Canada. List $17.95, sale $6.99.
Maxims of Management by Martin Smith. Hardcover, 182 pages. Subtitled "Working smart to increase profits," this is a common-sense approach to managment. Not a classroom text at all, but packed with candid, straight-forward ideas. Practical and profitable. List $14.95, sale $5.99.
---
Marketing and Market Research
Marketing Your Consulting and Professional Services by Dick Connor and Jeffrey Davidson. Hardcover, 236 pages. An extraordinary how-to manual loaded with examples, useful forms, and informative exhibits. A must read for all entrepreneurs. I wore out my first copy of this book and then bought this second edition, which is in like new condition. SOLD
Direct Marketing Success: What Works and Why by Freeman Gosden, Jr. Softcover, 225 pages. Why some lists do better than others. Why you can't guess response rates. Why long letters work. Principles and techniques of effective direct mail. It worked for me--DHA! List $12.95, sale $5.99.
Cheap But Good Marketing Research by Alan Andreasen. Hardcover, 281 pages. Market research does not have to be expensive, overly complex, or packed with statistics to be effective in your decision making. Here's how to make every dollar spent on market research pay off in your business. List $29.95, sale $15.00.
The Consultant's Guide to Newsletter Profits by Herman Holtz, Dow Jones Irwin, Hardcover, 256 pages. Aimed at independent consultants. How to win new clients and generate a steady source of income with an effective newsletter. It worked for me! List $19.95, sale $9.95.
---
Effective Writing and Business Communication
Effective Business Writing in Ten Minutes a Day by Cosmo F. Ferrara, Chilton Books. Softcover, 183 pages. For improved memos, letters, and reports, this book provides short, practical solutions to real-world writing problems in 72 two-page lessons (each about 10 minutes to complete). Covers flavor, ideas, mechanics, organizaion, sentence structure and wording. List $14.95, SOLD
The Business Writer's Handbook by Brusaw, Alred, and Oliu, St. Martin's Press. Hardcover, 764 pages. This 3rd revised edition has more than 500 entries on every aspect of business writing such as forms of disclosure, expletives, correspondence, copyrights, proposals, transitions, etc. Also a comprehensive index, topical key, and checklist of the writing process. List $19.95, sale $5.95.
Technical Communication by George Harwell. Hardcover, 332 pages. How to write technical material effectively, organization of material, business letters, reports, articles, oral communication, illustrative material. An older book (1960), but still very helpful. Orig $6.00, sale $2.50.
Business English by Donald Publishing Co. Staff. Softcover, 174 pages. Clear, complete explanations of grammatical principles, how to construct correct sentences, pssessives, regular and irregular verbs, capitalization. 10 lessons, 54 exercises. List $4.95, sale $1.98.
Put That in Writing by Jonathan Price. Softcover, 209 pages. A brisk and witty short course to help you say what you mean and make things happen in business. Focuses on common business tasks: letters, memos, reports, speeches, resumes. SOLD
Saying What You Mean by Robert Claiborne. Hardcover, 269 pages. This is a book to challenge and delight lovers of the (American) English language. Hundreds of dictionary-like entries in an entertaining, provocative style explain what is and is not "good English." Very practical. SOLD
Editing Your Newsletter by Mark Beach. Softcover, 169 pages, large format. How to produce an effective publication: identifying your audience, choosing vital topics, composing powerful headlines, desiging a nameplate, creating effective photos, matching headline and body type, and stay on schedule. SOLD
---
Desktop Publishing
Looking Good in Print by Roger C. Parker, Ventana Press. Softcover, 371 pages. A guide to basic design for desktop publishing. How to produce attractive, effective newsletters, advertisements, brochures, manuals, correspondence. (Not computer or software specific--as useful now as the day it was published.) List $23.95, sale $7.95.
The Makeover Book by Roger C. Parker, Ventana Press. Softcover, 282 pages. Here are 101 before and after examples of how you can put basic design principles to work to make your documents more attractive and persuasive. Examples of newsletters, ads, brochures, flyers, letterhead, charts, catalogs, reports, resumes, surveys, and more. (Not computer or software specific--as useful now as the day it was published.) List $17.95, sale $6.95.
TYPE Style by Daniel Will-Harris, Peachpit Press. Softcover, 340 pages, large format. A huge easy-to-use how-to book of time-honored principles to help you communicate more forcefully and persuasively: choosing and combining typefaces, making pages easier to read, creating the desired atmosphere and mood, avoiding ugly and embarrassing mistakes. This book is hard to find becasue it is such a valuable and timeless reference. List $24.95, sale $9.95.
Designer's Guide to Typography multiple authors. Softcover, 210 pages, full color throughout. In the "Step-by-Step Graphics" series, this book/magazine has 30 lavishly-illustrated articles by well-known people in the field of design, corporate graphics, advertising, typography, and publications. Each article will give you dozens of ideas for your publications. Seldom available. List $19.50, sale $6.95.
Design Principles for Desktop Publishers by Tom Lichty, Scott Foresman. Softcover, 201 pages. Discusses in depth five basic concepts of page design, typography (leading, kerning, picas, points, fonts), choosing the right typeface, how and when to use illustrations, borders, rules, ornaments, photos, charts, and graphs. List $19.95, sale $6.95.
Newsletters from the Desktop by Robert C. Parker, Ventana Press. Softcover, 306 pages. Shows you how to plan your newsletter, choose the best layout, create the all-important nameplate, select the best typefaces, integrate text and graphics, and much more. With 200 illustrations and lots of samples. SOLD
Guide to Desktop Publishing in Business by Bruce G. McKenzie, Int'l Paper Co. Softcover, 220 pages. Comprehensive reference book with 367 illustrations (many in color) about use of type, creating effective charts and graphics, how to use color, choice of paper, preparing for printing, how to work with graphic arts professionals, more. List $24.95, sale $6.95.
Print That Works by Elizabeth W. Adler, Bull Publishing. Softcover, large format, 350 pages. The first step-by-step guide that integrates writing, design, and marketing. Written especially for people on tight budgets, the book shows how to get the most impact for the least cost. 500 illustrations. SOLD
Handbook for Color Printing by Irvin Borowsky, North American Publishing. Spiral bound, large format, 64 heavy pages. An incredibly valuable reference for printing anything in color. Each 2-page spread has 56 panels that show one basic color (process color or Pantone color) combined with white and black in 10% steps. Black, white (dropout), and color type are overprinted on each panel. Example: page 6, panel 23 shows 40% black + 60% cyan with printing on it in black, white, 100% cyan, and 60% cyan. 12 additional panels on each spread show halftones with varying percentages of black and color. All of these references are printed on coated stock, uncoated stock, newsprint, and selected ones on colored stock; there are also six spreads of combinations of two colors. A vital reference. List $24.50, sale $12.95.
Process Color Reference by Graftek Press. Spiral bound, 90 pages. Invaluable reference book shows all possible combinations of process colors plus black in 10% steps on three different stocks. Three sections: first shows yellow, red, and blue; second shows yellow, red, and black; third shows yellow, blue, and black. Paper weights are 70 lb. coated (cover), 55 lb. offset (office printing), and 45 lb. coated (magazine pages). The book is well used, but all pages are intact. Sale $3.95.
Book of American Types by American Type Founders, 1934. Hardcover, 207 pages. This historic reference book has type specimens of 330 classic type fonts. The 20's and 30's were a period of great experimentation in typography and a major break with what we now consider the outmoded typefaces of 1800s and earlier. Many of the fonts in widespread use today first appeared in this historic reference. This rare book is in absolutely pristine condition and can be yours for only $50.00.
---
E-mail your questions or order to SwapMeetDave@aol.com