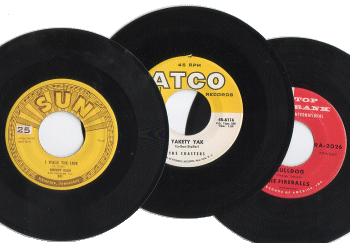 45 RPM Records Cheap
1950s and 1960s





45 RPM Records for sale cheap! We had a large collection of more than 300 records, but after a HUGE RUN on these records over the holidays, we have only the 46 titles listed below. They are all original 1950s and 1960s records, no reissues. They are used and have been played, but all still play with minor pops and noise. Get 'em before they're gone. Postage in the USA is only $1.50 for the first record and 40¢ for each additional record. (Most other vendors charge 2 to 3 times as much for postage and handling.) I accept payment by check, money order, or PayPay.
Reserve your records by e-mail to SwapMeetDave@aol.com. I'll send you a quick reply with the total discounted price including postage. I have only one of each.



---
ALL 45s are SOLD! None left. Sorry!
---