• Insulated 1000V Cushion Grip
• Tools Marked with Serial No. & Include Calibration Certificate
• Meets ASME B107.14m, EN ISO 6789, BS EN 26789
• Quality & Accuracy Guaranteed to 5000 Cycles
• Laser Calibrated & Scale Marked, Serialized for traceability
• Enclosed Mechanism Ideal for production controlled environments
• Secure Torque Setting, Requires torque adjustment tool
• Reverse Torque is 50% higher than indicated setting, easy removal
• Guaranteed accuracy to 5000 cycles or 1 year
Included in package:
• Wiha TorqueVario #28520 driver, 20-70 in-lbs, with Torque setter driver (1YUP3)
• Wiha TorqueVario #28514 driver, 7.5-20 in-lbs, with Torque setter driver (1YUP2)
• 3 flat blades: 0.5 x 3.0, 0.8 x 4.0, 1.0 x 5.5 (1YUP4, 1YUP5, 1YUP6)
• 2 Philips blades: PH1, up to 35 in-lbs and PH2, up to 50 in-lbs (1YUP7, 1YUP8)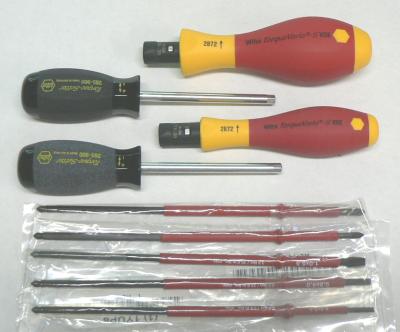 Grainger price $378.35, best Internet price $283.40
SwapMeetDave Low Price Only $239.00.
For shipping, I will use the lowest cost method to you from Morristown, NJ: USPS parcel post or Priority Mail, whichever you prefer (weighs 2 pounds). You pay only my out-of-pocket shipping expenses.
Who am I? My web identity is SwapMeetDave, but I'm actually David Ahl, founder of Creative Computing, ex-editor of Military Vehicles, writer, incurable collector, and Christian. When you have time, take a look at my on-line carnival and flea market at SwapMeetDave.com, which is chock full of new clean jokes, patriotic pics, books, magazines, Bible studies, my bio, and other good stuff.