Browning 35 Roller Chain Puller ~ BRAND NEW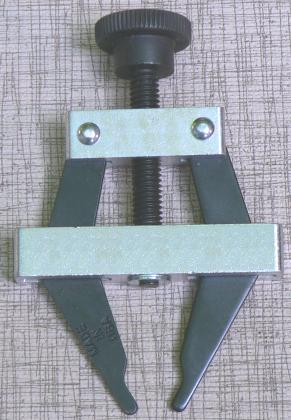 Browning Roller Chain Puller ~ BRAND NEW ~ Made in USA
Install roller chains quickly and easily. Just hook the two jaws into the end of the chain and turn the screw until the two ends almost meet. Then insert the connecting link fasten. Both jaws spread. Pulls ANSI chain sizes from No. 35 to No. 60.
Dealer price on this item varies from $26.82 to $41.66 on the Internet. Now, you can buy it with full satisfaction guaranteed from SwapMeetDave. SOLD
For shipping, I will send the item by USPS Parcel Post for my out-of-pocket cost for mailing 1 pound from Morristown, NJ 07960 to wherever you live. I'm not like some Internet sellers who build big profits into shipping and screw the buyer.
Who am I? My web identity is SwapMeetDave, but I'm actually David Ahl, founder of Creative Computing, ex-editor of Military Vehicles, writer, incurable collector, and Christian. When you have time, take a look at my on-line carnival and flea market at SwapMeetDave.com, which is chock full of new clean jokes, patriotic pics, books, magazines, my bio, Bible studies, and other good stuff.







I accept payments by check (on a US bank) or PayPal. I ship the day I receive your payment or notification of payment from PayPal. Thank you!