Chauvin Arnoux F3N Digital Clamp Meter
AC Current Analyzer ~ BRAND NEW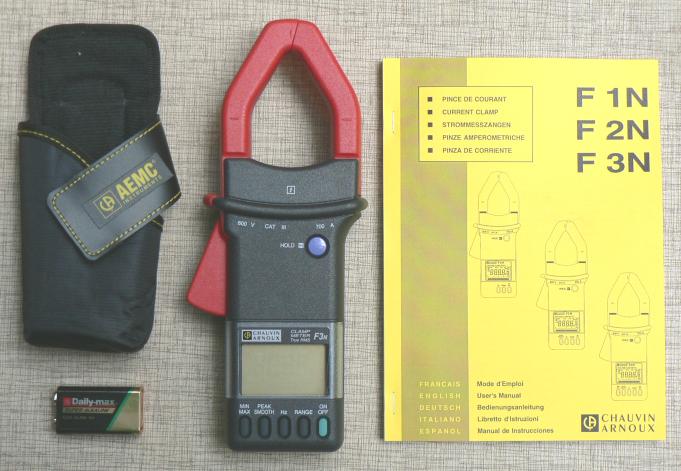 Chauvin Arnoux (AEMC) F3N Clamp Meter (AC Current Analyzer) ~ BRAND NEW ~ Made in France
The F3N clamp meter is an AC current analyzer for measuring low and medium-power electrical installations with peak current circulating in the conductors of less than 1000A. It provides true RMS measurement of any sinusoidal or distorted AC current. This clamp meter is comparable to Fluke 337. Features include:
• True RMS value of current from 300mA to 400A - 700A and 1000A peak (2 cal.)
• Stable or variable frequency from 0.5Hz to 10kHz
• 10,000-count digital display
• Measure of "PEAK" (1ms) current values
• Measurement of "SMOOTHED" current and frequency values (3s)
• Memorization of min, max and average values
• RECORD, HOLD, RANGE
• 40-segment analogue bargraph displaying instant value
• Battery charge level; automatic stop
• Maximum clamping: ø42mm
• IEC 1010 600V Cat III-2 electrical safety
• Dimensions: 232 x 98 x 44mm; Weight: 500g
• Includes clamp meter, vinyl belt carrying case, 9-volt alkaline battery, instruction manual, warranty card
Applications for this meter include electrical testing of distorted currents found on uninterruptible power supplies (UPS), speed controls, static power blocks, chopped power supplies, controllers and motors. Click here for a complete data sheet (PDF) on the F3N meter.
Dealer price on this item varies from $289.00 (+ $15.00 shipping) to $459.00 on the Internet. Now, you can buy it with full satisfaction guaranteed from SwapMeetDave. SOLD (This is the last one we have. It is BRAND NEW, never used, NOT a refurbished meter like others are selling.)
For shipping, I will send the meter kit by USPS Parcel Post for my out-of-pocket cost for mailing 3 pounds from Morristown, NJ 07960 to wherever you live. I'm not like some Internet sellers who build big profits into shipping and screw the buyer.
Who am I? My web identity is SwapMeetDave, but I'm actually David Ahl, founder of Creative Computing, ex-editor of Military Vehicles, writer, incurable collector, and Christian. When you have time, take a look at my on-line carnival and flea market at SwapMeetDave.com, which is chock full of new clean jokes, patriotic pics, books, magazines, my bio, Bible studies, and other good stuff.







I accept payments by check (on a US bank) or PayPal. I ship the day I receive your payment or notification of payment from PayPal. Thank you!