MV (UK) ~ 20 Issues ~ 1996-2000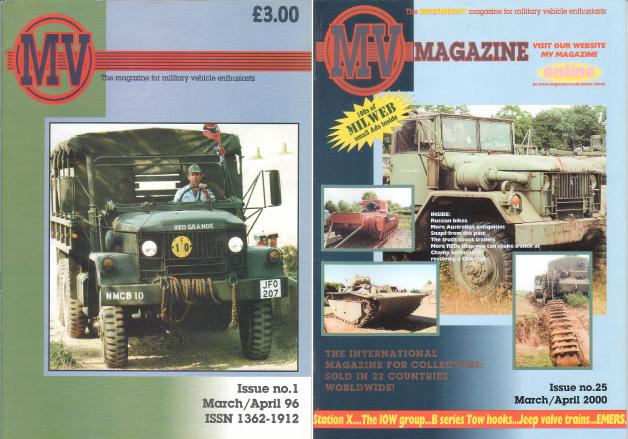 MV (UK) ~ 20 Issues ~ 1996-2000 ~ $45 postpaid.

This is a collection of 20 issues of MV Magazine, published in the UK by Nick Bullock. These issues include the impossible to find early numbers 1, 2, 3, 4, plus all issues from #11 to 26. This magazine picks up from where Wheels & Tracks left off upon the death of Bart Vanderveen, and continues for four years until the more lavish and much better funded Classic Military Vehicle was launched by Pat Ware and the Kelsey Publising Group in 2001. Not only does it fill an important gap, but the articles, columns, and photos pulled together by Nick Bullock are quite unique. The magazine also had a nice how-to section written by John Mastragelo that is sadly lacking in most of the current MV magazines. Each 40-page issue is chock full of interesting articles, great photos, and lots of practical information as useful today as the day it was written. Needless to say you never see these magazines on the market. Here's your chance to get a priceless collection of 20 rare issues for only $45.00 postpaid (in USA only).
If you have an antique or historic car or truck, or are just interested in vintage vehicles, you should get these priceless magazines. I also have back issues of Double Clutch, Vintage Truck, Cars & Parts, Wheels of Time, and Auto Restorer magazines available. E-mail me for details.
For shipping, I will send the magazines by USPS Media Mail absolutely FREE! to any address in the USA. I'm not like some Internet sellers who build big profits into shipping and screw the buyer.






I accept payments by check, money order, or PayPal.
I ship the day I receive your payment or notification of payment from PayPal. Thank you!