7 Assorted European and UK Military Vehicle Magazines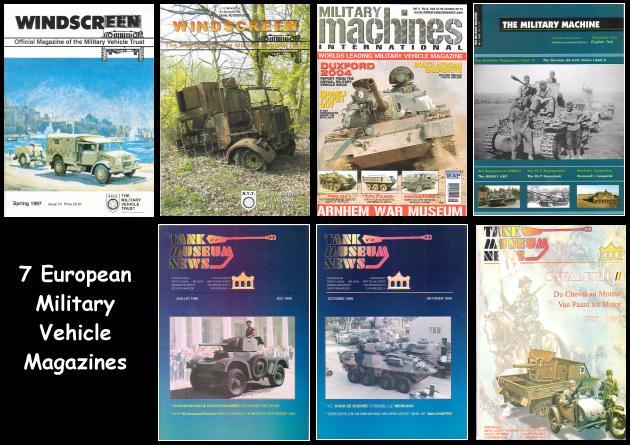 7 Assorted European and UK Military Vehicle Magazines ~ $18 postpaid.

This is an eclectic group of 7 European and British military magazines with a focus on military ground vehicles. Here's what you get: 2 fat copies of Windscreen (#74 and #98) published by The Military Vehicle Trust (UK), 1 80-page copy of Military Machines International (fabulous articles on MVs in South Africa, the Alvis Stalwart, Israeli M-325 Command Car, armor from China, and much more--all in full color), Issue #1 of The Military Machine (52 pages, no ads, on tanks and armor from Germany), 3 copies of Tank Museum News (#47, 48, and the big 112-page issue #50) from the Tank Museum in Brussels, Belgium (sorry, text is in German and French, no English, but the photos and illustrations are outstanding). Cover price of these 7 magazines was about $40 (add another $20 for postage to the US). Here's your chance to get 'em cheaper than dirt for only $18.00 postpaid (in USA only).
For shipping, I will send the magazines by USPS Media Mail absolutely FREE! to any address in the USA. I'm not like some Internet sellers who build big profits into shipping and screw the buyer.






I accept payments by check or PayPal.
I ship the day I receive your payment or notification of payment from PayPal. Thank you!