Cars & Parts Magazine ~ 3 Years ~ 32 Issues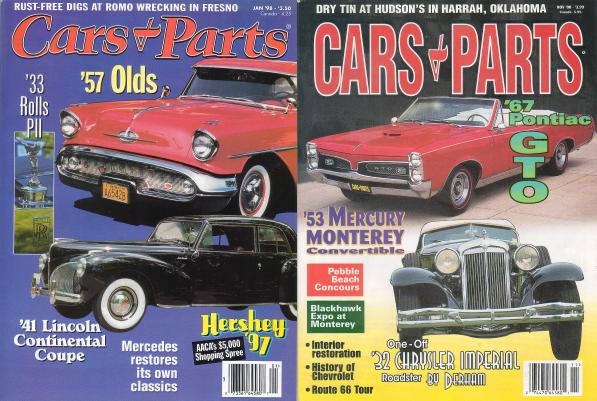 Cars & Parts Magazine ~ 3 Years (1997-2000) ~ 32 Issues ~ $70 postpaid.

This is a 3-year collection of 32 issues of Cars & Parts Magazine, one of the best magazines devoted to vehicle restoration nad historic, old cars and trucks. Each issue of Cars & Parts runs a thick 140 full-color pages. A typical issue is packed with 16 articles and 9 columns focusing on practical how-to resto projects, salvage yards, top concours shows, and detailed restoration stories. Individual issues cost $4.00 each and you never see them discounted, so to get a collection of 32 timeless big issues for only $70.00 postpaid (in USA only) is a fantastic deal.
If you have an antique or historic vehicle, or are just interested in old cars and trucks, you should get these priceless magazines. I also have back issues of Double Clutch, Vintage Truck, Wheels of Time, Skinned Knuckles, and Auto Restorer magazines available. E-mail me for details.
For shipping, I will send the magazines by USPS Media Mail absolutely FREE! to any address in the USA. I'm not like some Internet sellers who build big profits into shipping and screw the buyer.






I accept payments by check, money order, or PayPal.
I ship the day I receive your payment or notification of payment from PayPal. Thank you!