Jeep World ~ 24 Issues ~ 2000-2005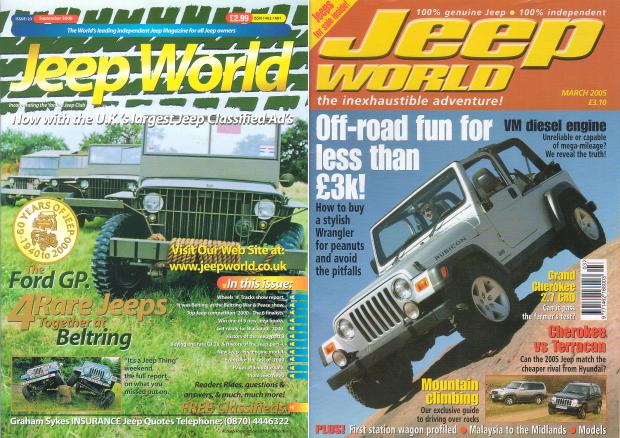 Jeep World (UK) ~ 24 Issues (2000-2005) ~ $50 postpaid.

This is a collection of 24 issues of Jeep World, "the inexhaustible adventure" from the UK. This is the great magazine founded and edited by Mark Askew and incorporating the Yankee Jeep Club newsletter. Although it has a British slant, it is by far the best Jeep magazine in the world. Unfortunatley, a year and a half after Kelsey bought it, they killed off a number of their smaller titles and Jeep World was among the magazines that ended. However, the issues here here have some timeless articles about the history of the Jeeop that you won't find in any other magazines or books, photos of rare Jeep prototypes, and specs of limited production Jeeps. This is a phenomenal collection for any Jeep or 4x4 enthusiast, and you never see these magazines on the market. Here's your chance to get a priceless collection of 24 rare issues for only $50.00 postpaid (in USA only).
If you have an antique or historic car or truck, or are just interested in vintage vehicles, you should get these priceless magazines. I also have back issues of Double Clutch, Vintage Truck, Cars & Parts, Wheels of Time, and Auto Restorer magazines available. E-mail me for details.
For shipping, I will send the magazines by USPS Media Mail absolutely FREE! to any address in the USA. I'm not like some Internet sellers who build big profits into shipping and screw the buyer.






I accept payments by check, money order, or PayPal.
I ship the day I receive your payment or notification of payment from PayPal. Thank you!